Angela's £560 Uniform Tax Refund Story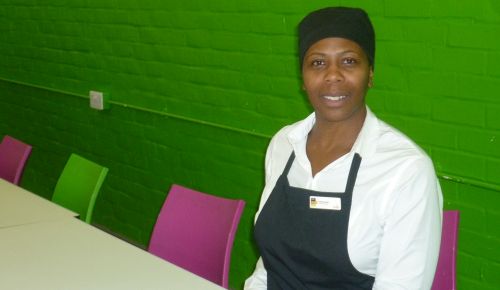 As Catering Manager for a busy secondary school in Crystal Palace, south London, Angela Gray is used to working under pressure.
Each day she and her team put on lunch for around 900 people, staff and students alike. "We've got some beautiful kids here but let's say there are some who can be a bit cheeky," she laughs. "You find yourself having to talk to them like a teacher. And the noise! When there are a lot of people in here, you have to shout just to be heard."
Fridays, when they serve fish and chips, are usually busiest and this is the day when prospective employees are given a test run. "We bring them in and see how they cope," she explains. "We get them to wash up, chop things, serve the meals. It's sink or swim."
Having been in catering for more than fifteen years, working mainly in schools and colleges, Angela has learned to manage her own stress levels by having a good team under her.
Even so she still can't bear to watch cookery competitions on TV when she's off-duty. "I cringe when the contestants are thrown in at the deep end and have to go and work in a professional kitchen," she admits. "I feel so sorry for them because I know how difficult it can be."
So how about her teenage son? Is he keen to pursue a career in catering? "He's got the wrong temperament for it," she smiles. "He's too laid-back. He's much more interested in playing sport."
Angela received a payment of £560 towards the steel-capped safety shoes and black trousers that she has to wear for work. Also, most importantly, for the white shirts which have to be constantly replaced because they have a tendency to go grey in the wash.
She was also able to backdate her claim for the chefs' whites and a set of knives which she had to pay for in previous positions.
"I didn't spend the money on anything in particular, it was just swallowed up by bills," she confesses. "But make no mistake, I'm definitely glad I got it!"
In fact, Angela was so pleased with her extra 'dough' that she told her head chef about Uniform Tax Rebate. Now he, too, has received a lump sum. "I think he owes me a drink," she agrees. "I must remember to ask him about that!"
Would you like to claim too? Just click on the box below to start your claim.