Claiming was "simple and quick" says Lichfield nurse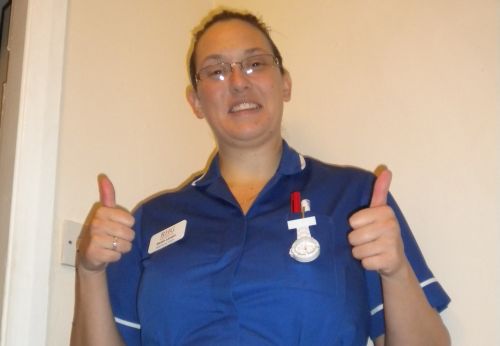 Staff nurse Sarah Larsen spends all her time caring for others. Now, thanks to a £250 rebate she received through Healthcare Worker Tax Rebate, she has earned some extra reward and has been buying treats for her family.
Sarah, a staff nurse specialising in mental health, works at the Darwin Court Care Centre in Lichfield, looking after adults aged over 50. Many suffer with dementia or challenging behaviour.
"It's a horrible disease," says Sarah. "It can bring out a side in people that their families haven't seen before. It's hard work but it's very rewarding. My oldest patient is 104 and she's still going strong.
"I have always been a carer since I was 17. I get a lot of satisfaction out of my job. Darwin Court is a new home but I've already had clients say 'if it wasn't for you…' so it's great to make a difference. Simple things can matter. I had an elderly lady change to a more comfortable mattress and she's so much happier.
"I love the caring side of my job, not just the medication."
Sarah, one of six children, trained to be a nurse with her mum who'd always wanted to be a nurse but waited until her children were grown up. "I encouraged her to do it," says Sarah. "We spent three years studying. She now works as a manager of an eating disorder unit. My daughter Samantha, aged five, also wants to be a nurse!"
Sarah and husband Ian also have a two-year-old son called Charlie and the family have spent a chunk of her tax rebate on outings to theme parks.
"We've been to Monkey Forest and to Thomas the Tank Engine at Drayton Manor," says Sarah. "They were great days out and I'm keeping the ticket stubs for the kids' memory boxes. I've also spent the money on clothes for them.
"I found out about Healthcare Worker Tax Rebate when a friend shared a link on Facebook. I have to pay for my uniform so it's very helpful to claim for that, and I've also claimed for my subscription to the Nursing Midwifery Council, union fees, subscriptions to essential magazines for mental health and nursing and care of older people, and my CRB security check.
"I never knew I could claim for these. It's shocked me how many people don't know about it. I've now shared it with 200 people on my Facebook page. A lot of my friends have claimed too and they're very happy.
"The claim process was simple and it was quick. I had my rebate within four weeks."